I love theoretical car shopping. I still get a little giddy when friends ask me what to buy, at a certain price with additional parameters. It feels like spending someone else's money … until they ignore me and buy a Toyota RAV4. Then it doesn't feel as great.
Related: 2019 Audi RS 5 Sportback Injects Sport, Performance Into Lineup
But this time I had the chance to choose the parameters and the comparison. I decided it was time to turn to Audi's lineup of smaller RS vehicles, the RS 3 sedan and TT RS coupe, to see which one comes out on top when it comes to drivability, performance and fun. There are obvious differences between the two, including body style, ability to fit passengers and price (the 2018 TT RS starts at $65,875 including a destination charge, $10,000 more than the 2018 RS 3's starting MSRP of $55,875). Let's throw all those out and just talk about how they drive.
Part of the reason that these two felt ripe for comparison is the symmetry of their powertrains. Both vehicles have mirrored powertrains with the same turbocharged, 2.5-liter five-cylinder engine that makes 400 horsepower and 354 pounds-feet of torque, along with Audi's Quattro all-wheel-drive system and seven-speed dual-clutch automatic transmissions.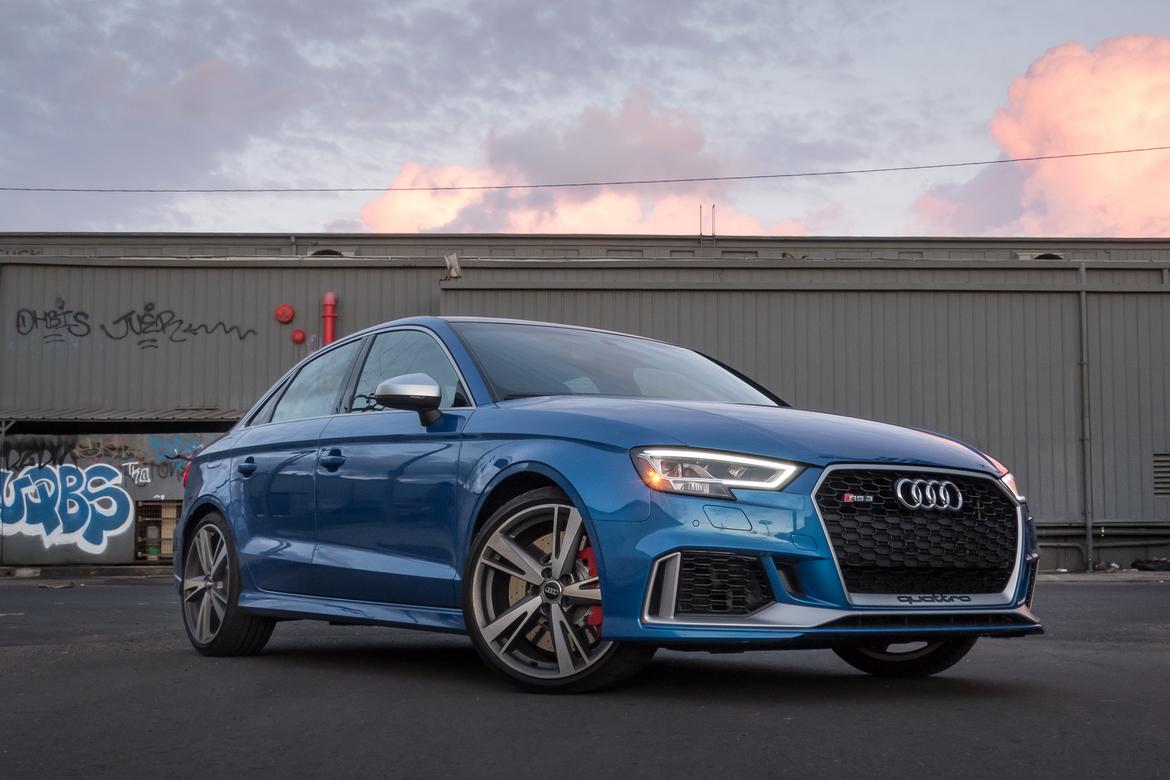 What We Tested: 2017 Audi RS 3
Powertrain: 400-hp, turbocharged 2.5-liter five-cylinder, 354 pounds-feet of torque; Quattro all-wheel drive (RS-tuned); seven-speed dual-clutch automatic transmission
Fuel economy: 19/28/22 mpg city/highway/combined
Key features: Panoramic sunroof; magnetic ride adaptive suspension (RS-tuned); progressive steering (RS-tuned); Nappa leather seats; Technology Package with Virtual Cockpit, navigation and blind spot warnings ($3,900); summer performance tires; Ara Blue paint ($1,075)
Price: $62,475 (including destination charges)
We tested a 2017 RS 3 for this comparison, but the full production run for the RS 3 didn't come to the U.S. until the 2018 model year. Audi says the 2017 model is part of a special, limited run of 250 vehicles. The only notable difference between the two is that the 2018 model has standard blind spot warning with rear cross-traffic alert (included as an option on the 2017 I tested); otherwise, they are mechanically identical and perform the same. We should also note briefly that Audi increased its destination charges from $950 to $975 for 2018.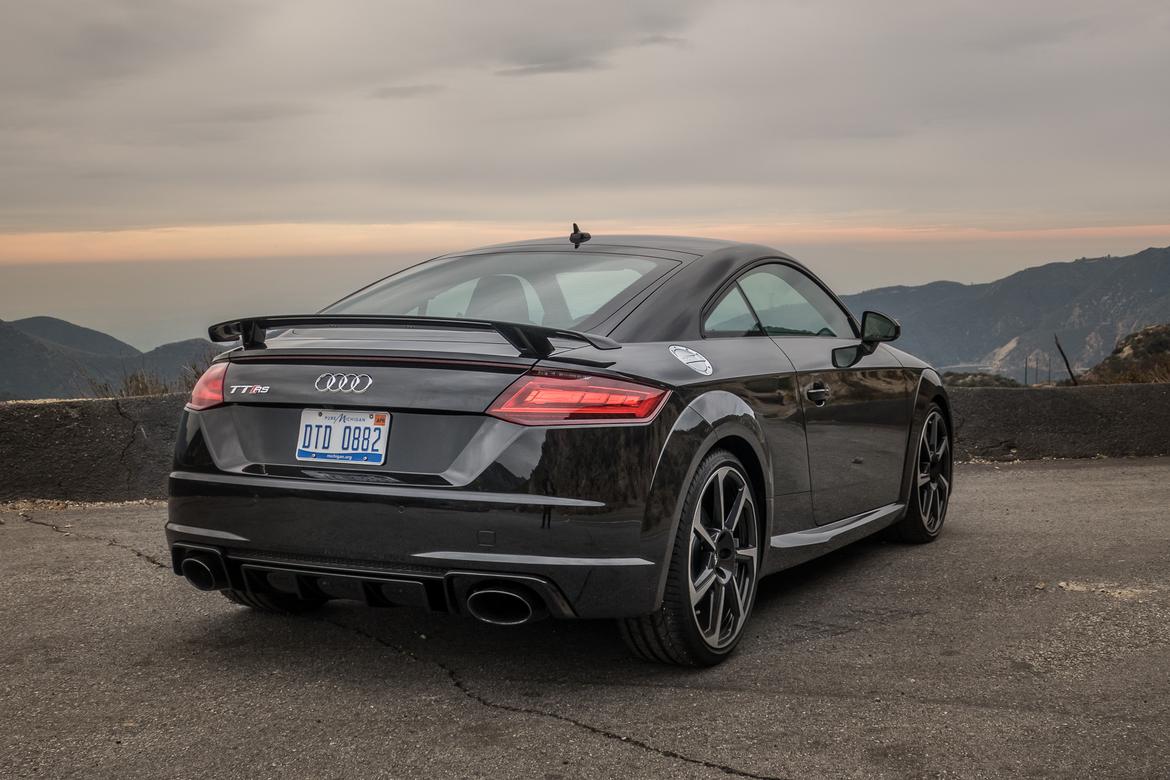 What We Tested: 2018 Audi TT RS
Powertrain: 400-hp, turbocharged 2.5-liter five-cylinder, 354 pounds-feet of torque; Quattro all-wheel drive (RS-tuned); seven-speed dual-clutch automatic transmission
Fuel economy: 19/29/22 mpg city/highway/combined
Key features: Audi Virtual Cockpit; eight-way power front seats in Nappa leather; Dynamic Plus Package with front ceramic brakes, organic light-emitting diode taillights and RS fixed sport suspension ($6,000); Black Optic package with 20-inch anthracite forged wheels and summer performance tires ($1,750); Mythos Black metallic paint ($575); sport exhaust ($1,000)
Price: $80,200
Powertrain and Acceleration
Let's talk first about the common thread between the two vehicles: that powertrain. The engine has impressive output, and the RS 3 and TT RS both feature also-impressive acceleration numbers, with the RS 3 jumping from zero-to-60 mph in just 3.9 seconds and the TT RS doing the same sprint a little quicker at 3.6 seconds.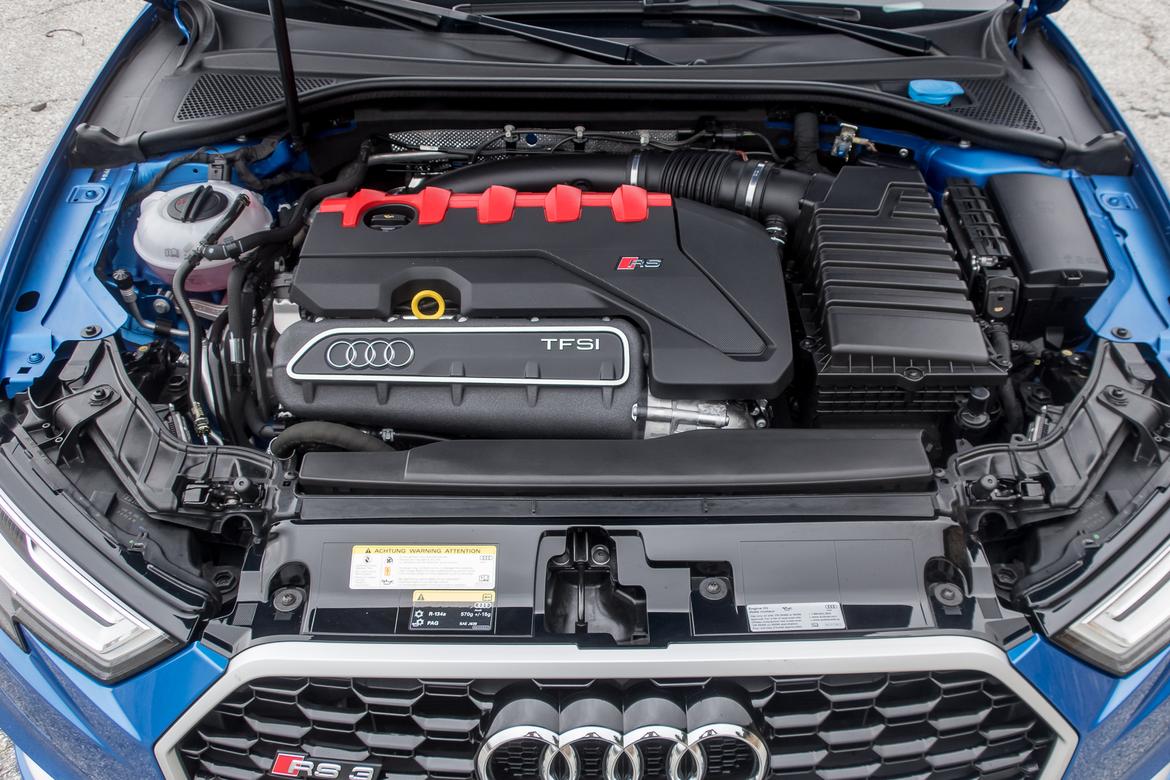 Seeing those figures on the page made me eager to test these cars. Audi's turbocharged 2.0-liter four-cylinder punches above its weight (even in the Q7, a three-row SUV) and the twin-turbocharged 4.0-liter V-8 found in the RS 7 is a personal favorite. So what could possibly go wrong with another turbocharged five-cylinder mill from the same company?
A lot, it turns out. My dissatisfaction with both of these cars stems in large part from the engine; it was very difficult to keep it in the power band even while using the paddle shifters to hold gears. Though it produces maximum torque at just 1,700 rpm, peak horsepower won't be found until nearly 5,900 rpm. And when the engine gets there, the kick was less than expected; there's a build of power but without the urgency I had hoped for. It turns both cars into momentum drivers, which can be fun, but you expect more out of something with an RS badge and 400 hp under the hood.
Handling and Ride
The TT RS I tested included the Dynamic Plus Package, which, among other changes, rips out the standard magnetic ride adaptive suspension — the one found in the RS 3 — and replaces it with an RS fixed sport suspension. The RS 3 rides stiffly in its own right, as you'd expect in a performance car like this, but at least drivers have the option of flipping it down into a comfort mode to soften it up a bit for everyday driving, where it becomes tolerable.
The RS 3's RS-tuned steering solves one of my gripes with most Audi cars, which have accurate steering but are light on-center and missing some feedback. There's less play with the wheel, and the rack feels quicker (the same can be said for the TT RS), which solved that issue. Still, I found that I was left wanting more from the RS 3. It simply doesn't have the same sharpness you can find in competitors like the BMW M2, which has nearly telepathic steering. The RS 3 engine's power delivery likely has something to do with that, as well, since the car's push out of a corner comes a beat later than expected, allowing it to wallow past the apex and dampen the experience a bit.
I then jumped into the TT RS to see how its fixed suspension played out. The fixed suspension gives the coupe some handling magic you won't find in the RS 3. It bites harder on turn-in, and you can take the same curves with more confidence. It has a grin-inducing agility that the RS 3 lacks. There's a massive caveat, though: This suspension pushes past stiff into harsh.
I was looking for a spot to shoot some photos of the car down an alleyway, and my head actually pinged the side window glass when I went over a bump I wasn't expecting. If you wanted to use your car as a divining rod to find imperfections in the road, it's great. If you want to be able to drive around without having to get your fillings checked at the dentist after, it's less ideal.
Find a good, well-maintained road with curves, and the TT RS comes alive. It's a joyful car in the right circumstances — it just comes at the cost of being borderline unlivable other times.
Conclusion: Option C
I was ready for this comparison to come down to which car I loved more out of the two, but that got flipped on its head. It came down to which car I disliked the least. If I'm taking one home — even without considering its edge in practicality — I'd have to lean toward the RS 3. A TT RS with the same magnetic ride suspension might sway me more; its lower curb weight helps the engine feel a smidge less sluggish, and I'd bet that it would maintain some of its agility edge, as well.
But the TT RS I tested didn't have that. It had the harshest suspension I've ever experienced, and it's something I couldn't live with every day. For a weekend car, simply for fun? Maybe. I just might be getting too old to hang out with a car that beats me up all the time.
Having to choose between these two feels like taking the lesser of two evils. They make me wish for an option C — or M, as it were. Can someone find me a BMW M2, please?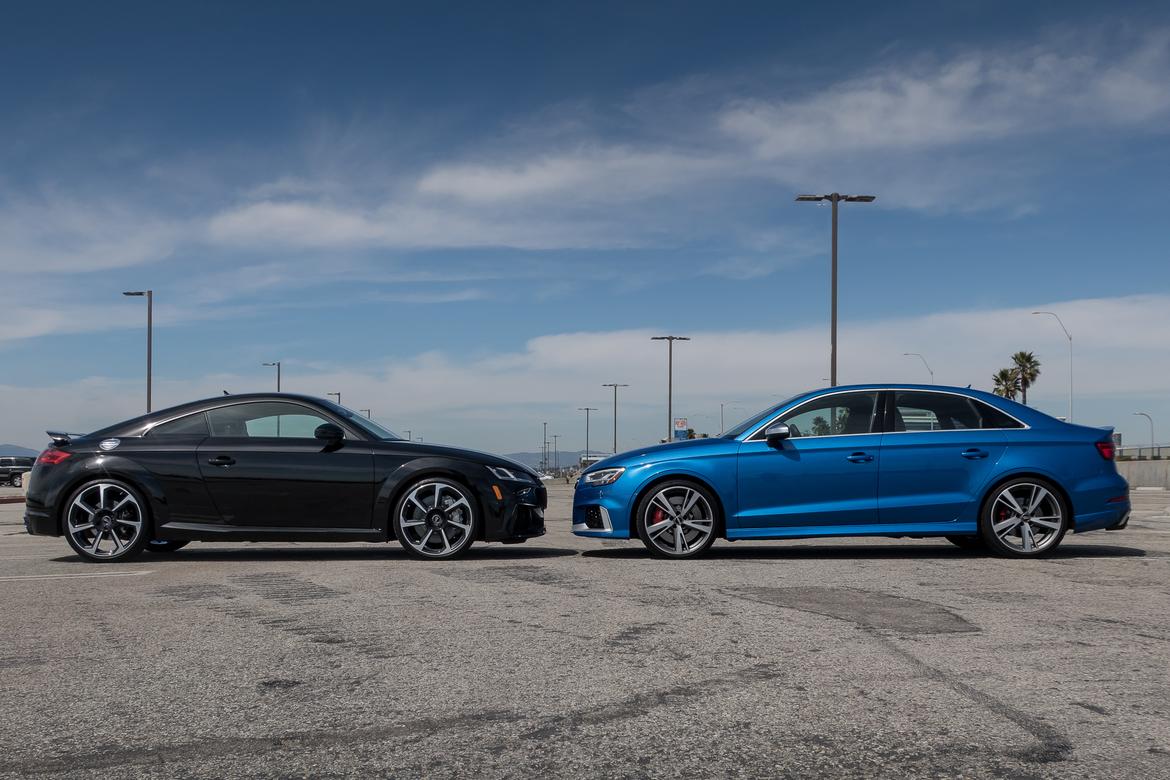 Cars.com's Editorial department is your source for automotive news and reviews. In line with Cars.com's long-standing ethics policy, editors and reviewers don't accept gifts or free trips from automakers. The Editorial department is independent of Cars.com's advertising, sales and sponsored content departments.
Share

Source link