When you need three rows of seating, your options are pretty limited. Yes, you can go for a minivan, but what if you have a heavy load or need to do some light towing? Some try to sway shoppers away from full-size SUVs with thirsty V-8s (or twin-turbo V-6s), but they serve an audience that typically needs their size and power and knows that means tradeoffs.
Today's relatively low and stable gas prices make this a good time to take a closer look at the top choices. No matter your needs, the best-selling Chevrolet Tahoe should be near the top of your list.  
For more than 40 years, Chevrolet's Tahoe and Suburban (essentially a longer version of the same SUV) have been the beacons of the class, dominating overall sales by a wide margin; last year alone, the Tahoe sold close to 100,000 vehicles. However, given the recent success of the all-new Ford Expedition — as seen in our 2018 Full-Size SUV Challenge — it looks like Ford is finally making up for lost time (and sales volume). And if it weren't for the elevated pricing on the version in our Challenge — the RST 6.2L Performance Package (not to be confused with the mostly cosmetic RST package) — and a few quirks with the Magnetic Ride Control suspension, the Tahoe would very likely have given contest-winning Expedition a closer race.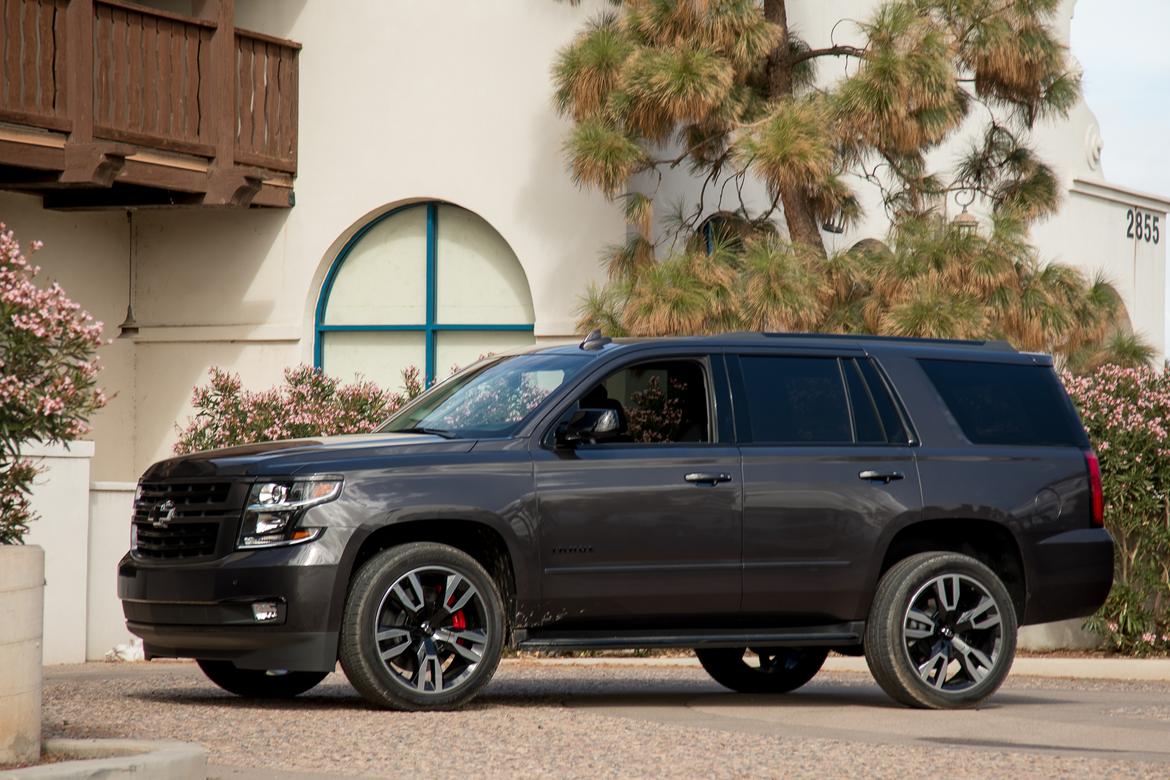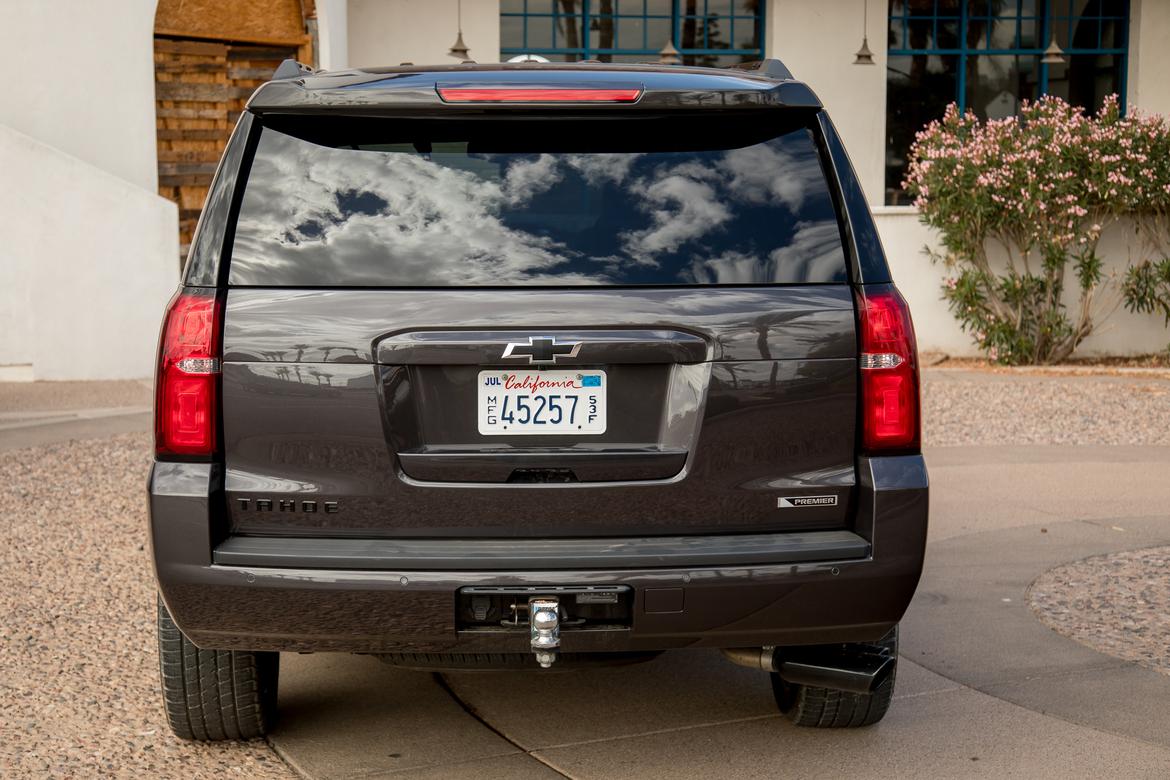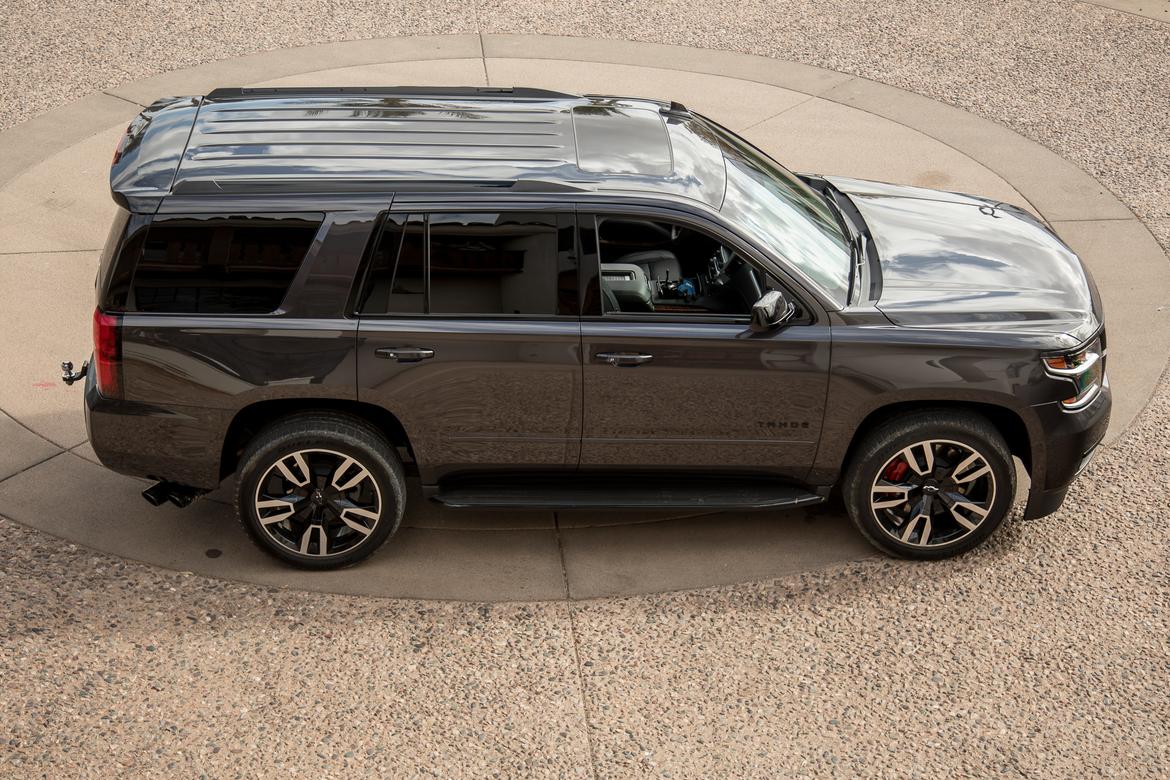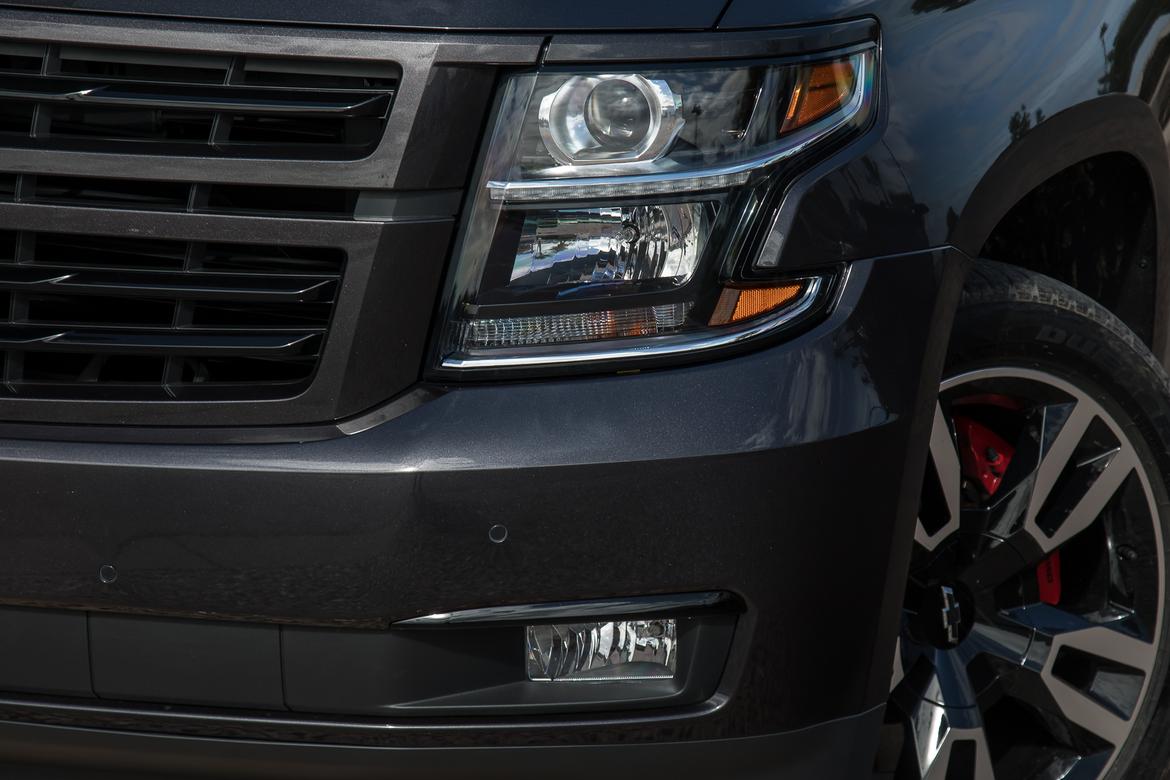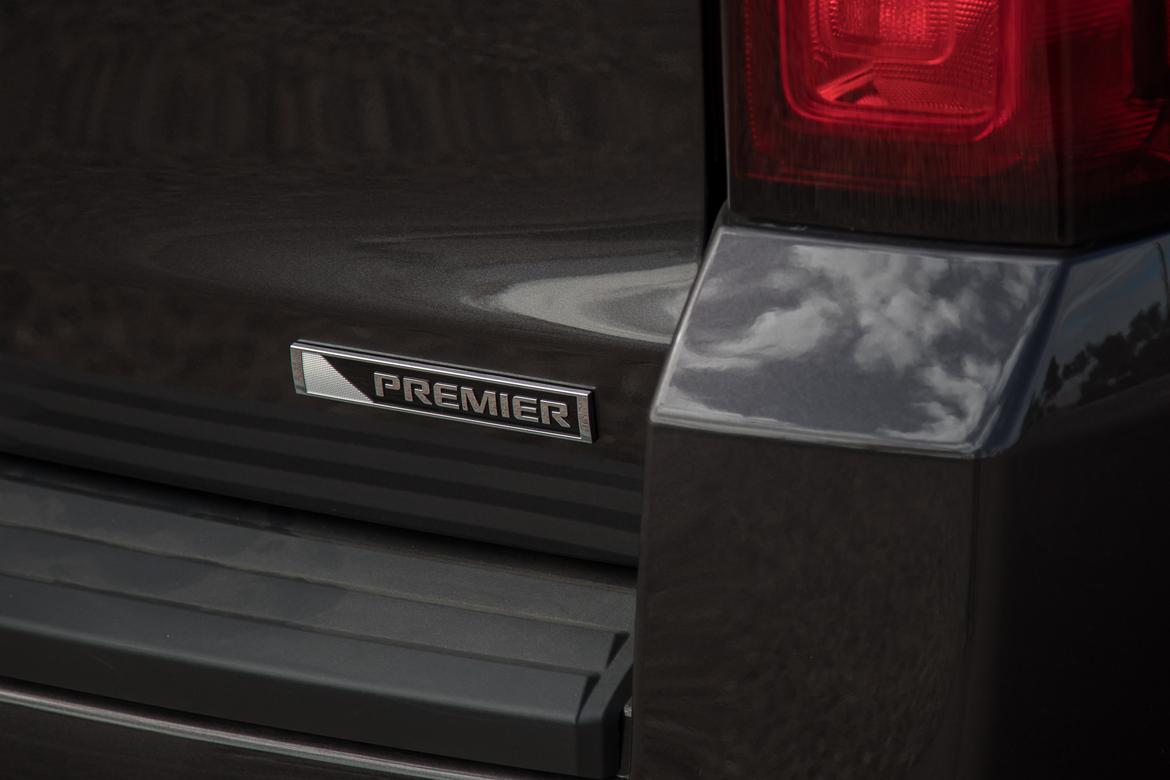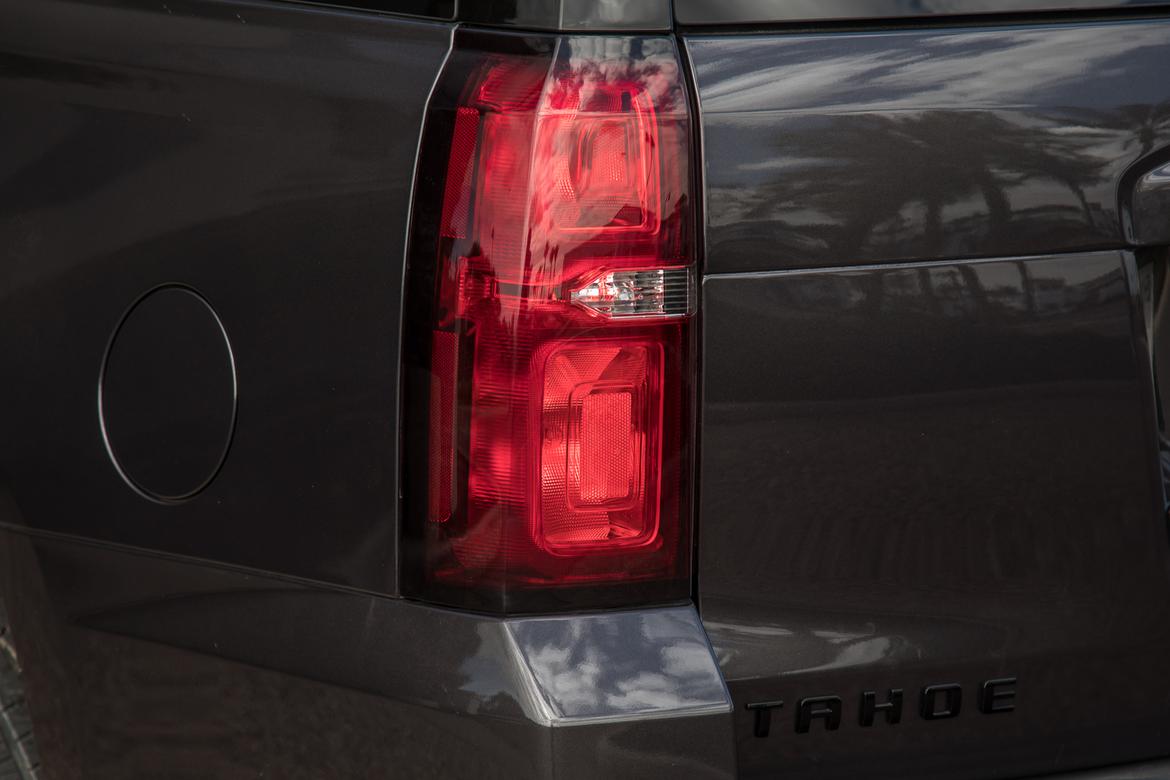 There are three trim levels for the Tahoe — LS, LT and Premier — with various packages and special editions for each, such as the RST version we tested. Tahoes are offered with either rear- or four-wheel drive and come standard with three-row seating, but new special editions provide two-row options. The dial-activated four-wheel-drive system is relatively basic, utilizing a conventional transfer case that allows for four settings: 2WD, AWD, 4-High and 4-Low.

Familiar, With a Few Additions

Chevrolet Tahoe construction is relatively traditional for a full-size SUV, meaning a body on a ladder frame with standard RWD. It has an independent front suspension with coil-over shock absorbers and a non-independent rear live axle with coil springs. It's the live axle in lieu of an independent suspension that forces the Tahoe to have a taller rear deck, forcing third-row passengers to sit with their knees to their chest. If the Chevy Tahoe has an Achilles' heel, this is it.
Additionally, the taller floor means there's less volume for cargo with or without the third row in place. The new five-seat versions provide more open cargo room for customers who need it.
For those with the third row, we like the hidden, in-floor storage tray behind it. It's a perfect hideaway spot for a few tools, some bungee cords, a small first-aid kit or a few cans of tire sealant. Tahoes also provide an exceptionally versatile cargo area, where the second and third rows have a fold-flat feature that makes for 94.7 cubic feet of space. Likewise, the standard flip-and-fold feature for the second row (activated by buttons at the rear doors and in the cargo area) are especially convenient and practical when you need to quickly change the interior to make space for boxed cargo or human or canine passengers.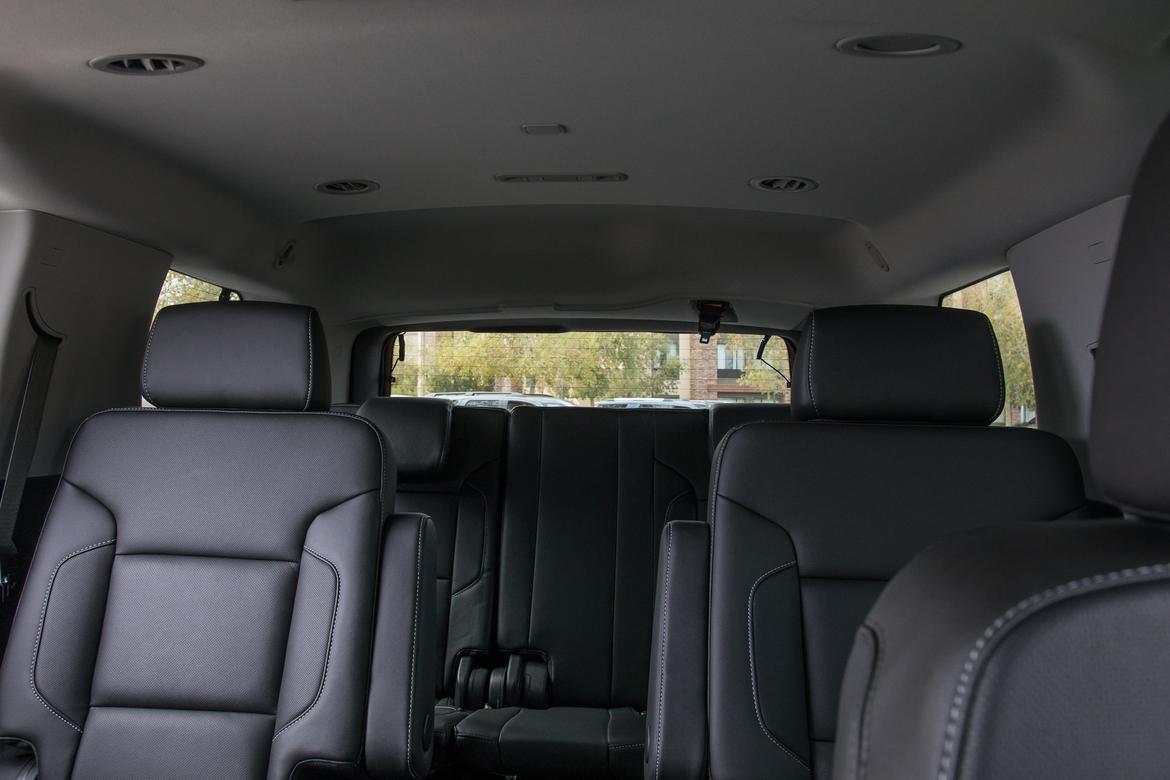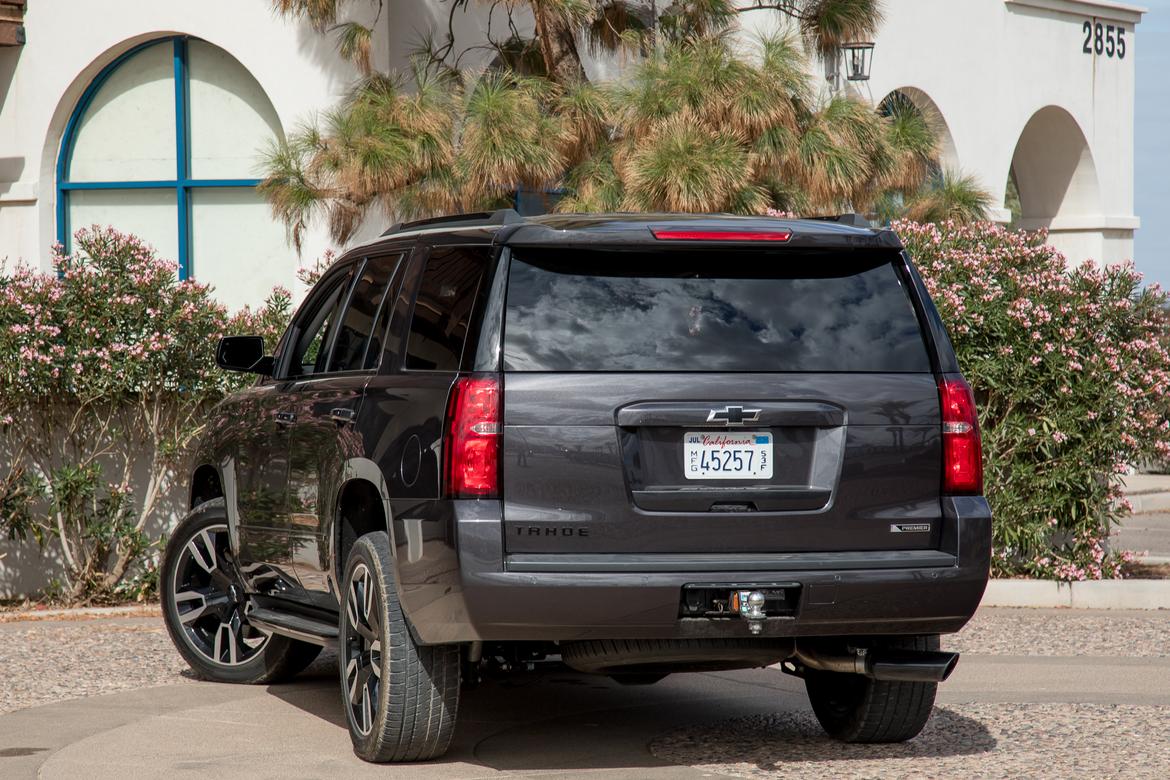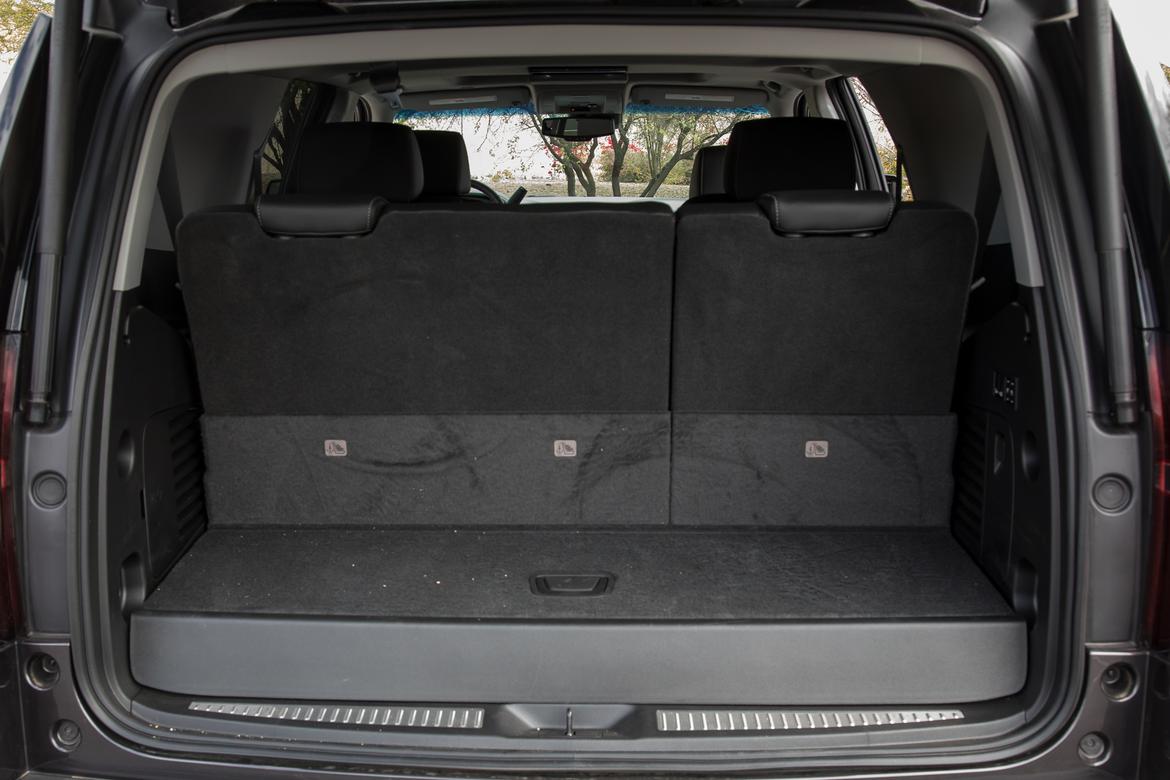 Powertrain Choices Improve

Powertrain choices for the Chevy Tahoe include two all-aluminum V-8 engines. The first is an overhead-valve 5.3-liter that produces 355 horsepower and 383 pounds-feet of torque, while the larger 6.2-liter V-8 makes a whopping 420 hp and 460 pounds-feet of torque. Both have cylinder-deactivation systems that enable them to switch seamlessly between V-8 and fuel-saving V-4 modes without drama. The smaller V-8 comes standard with the factory six-speed automatic transmission, while the 6.2-liter V-8 is the first Chevy to benefit from the automaker's all-new, buttery smooth 10-speed.
EPA-estimated fuel economy for the smaller V-8 is 16/23/19 mpg city/highway/combined with 2WD and 16/22/18 mpg with 4WD. The larger V-8 is rated 14/23/17 mpg with 2WD and 14/22/17 mpg with 4WD. During our most recent comparison test, we found the Tahoe RST to be pretty good at stretching the miles with the new 10-speed transmission; in fact, the Chevy performed best in both our empty (22.5 mpg combined) and camper-trailer towing (12.1 mpg) fuel-economy loops, which covered both urban and mountainous highway driving over a 166-mile loop through and around Phoenix.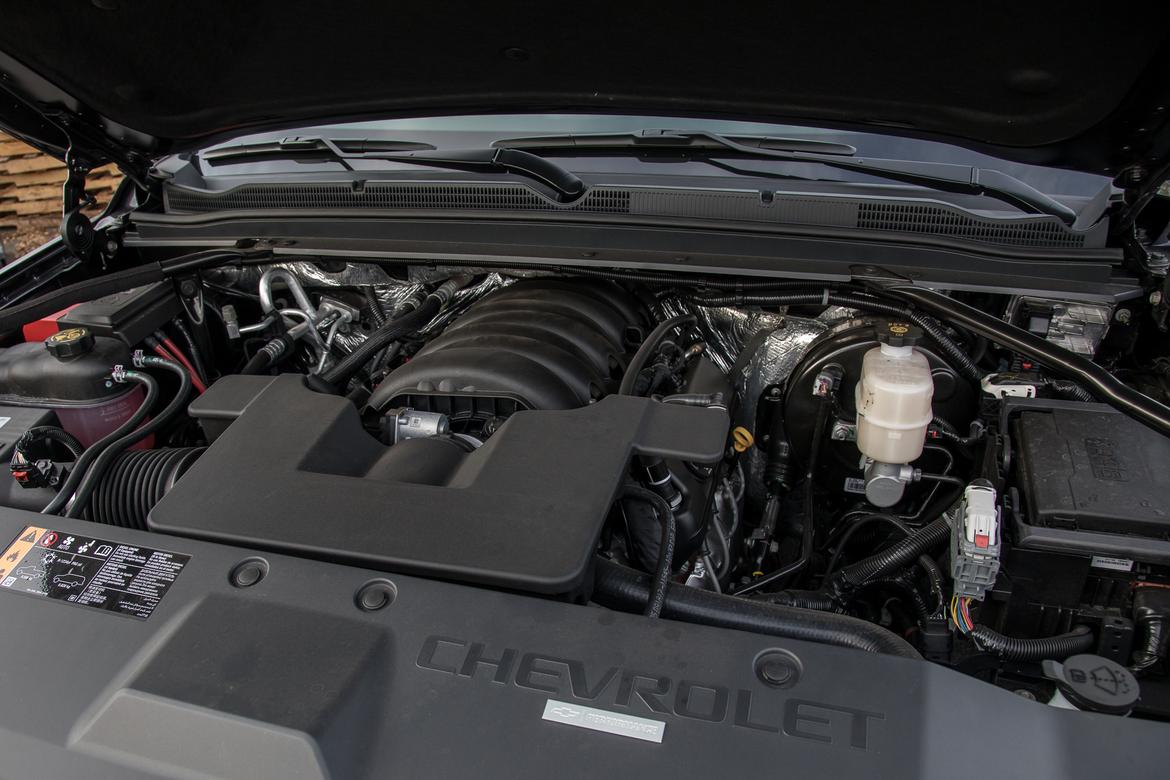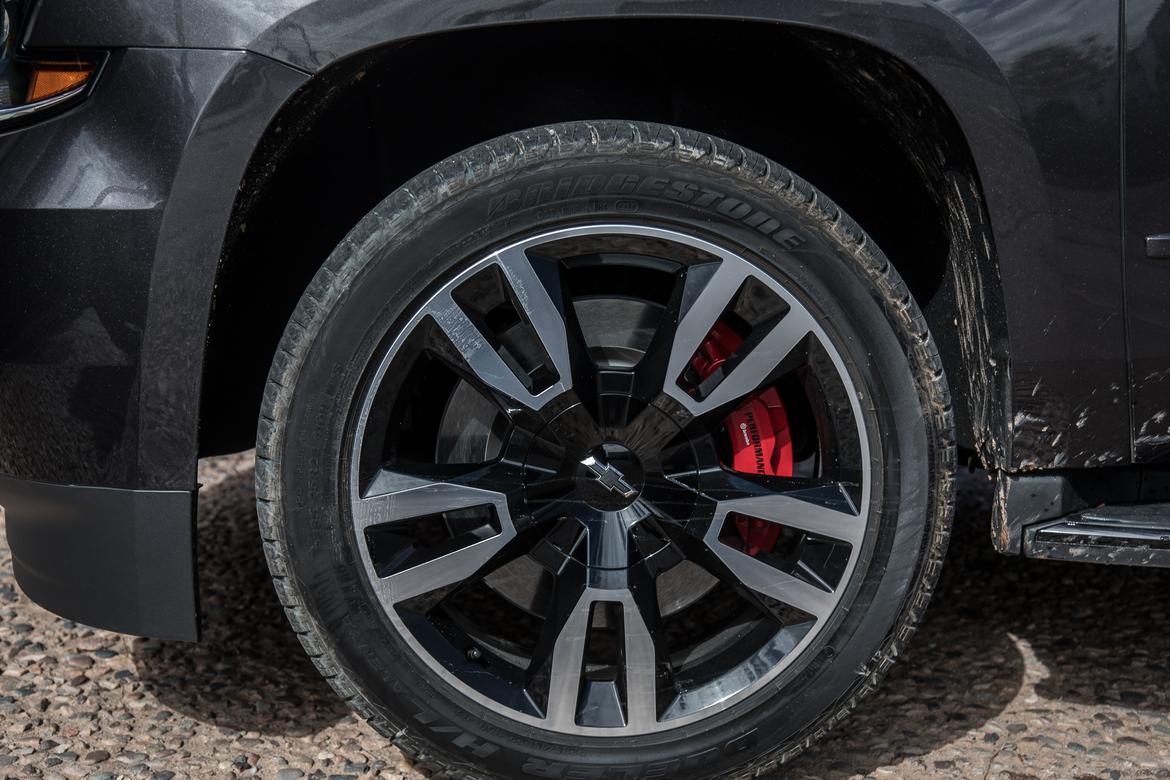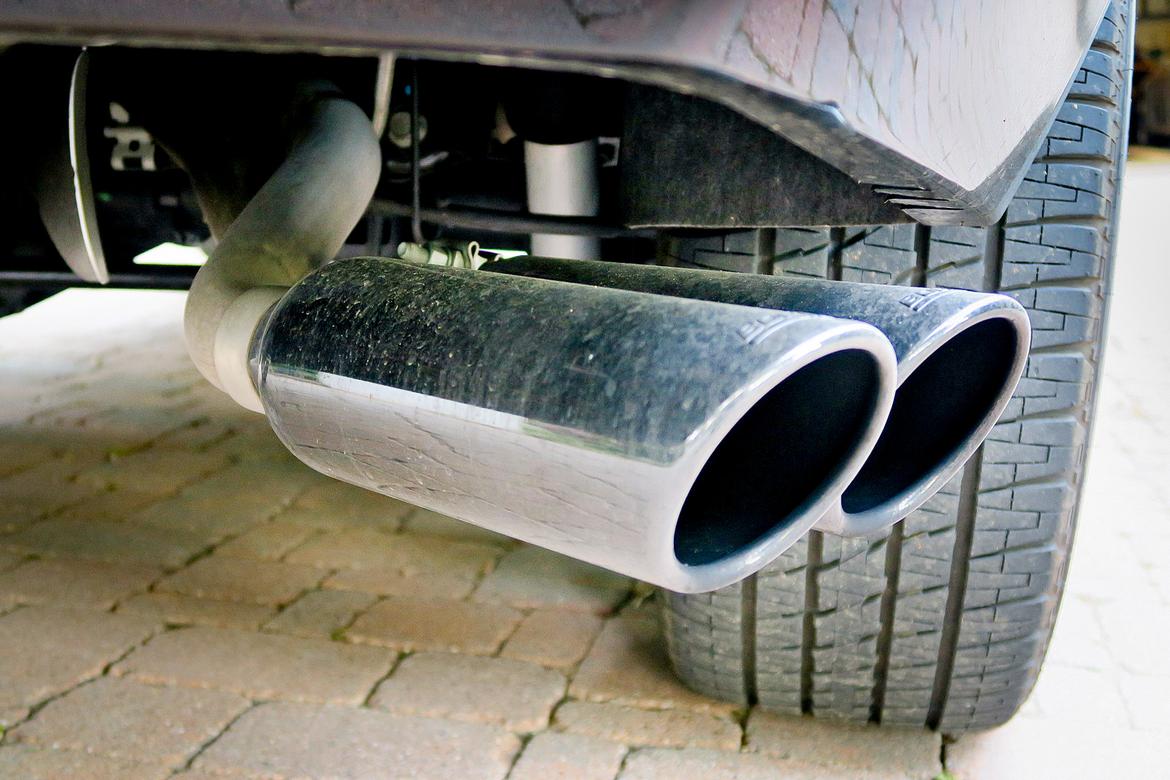 Impressions From the Road

In our past experience, we've found the ride quality of the more mainstream (non-RST) models to be cushy but confident. It feels especially solid in a straight line, depending on your setup; in fact, each of the special editions (Texas, Custom, Midnight and RST) have unique shock absorbers designed specifically to provide a distinctive personality, delivering a wide bandwidth of capability for each Tahoe. We found the RST model not very well-equipped for the towing we did through the mountainous Tonto National Forest, where its low-profile tires and rear suspension felt choppy and a bit stiff (partly due to a load-leveling rear suspension that stiffened under excessive trailer tongue weight). The RST package also doesn't allow for better axle gearing to help with trailers at the heavier end of the 8,400-pound maximum towing limit (8,100 with 4WD).
Still, we should note that the low-end torque of the 6.2-liter V-8 made those relatively minor issues less important; we barely noticed the 3,500-pound camper trailer behind us when merging into traffic or climbing steep grades. The tow/haul mode on the transmission and integrated trailer brake controller (we had ours set at 5.5) made the towing experience worry-free. That said, we'd still like to see Chevy create a better set of towing mirrors for those who will do more towing.
Despite its inclusion of sophisticated computer-controlled Magnetic Ride Control shock absorbers, the RST edition felt jittery, especially when the Tahoe was empty, producing a low-frequency vibration from the suspension when driving on what looked like a smooth road. We never felt it with passengers or a heavier load inside. We don't recall feeling that same sense in our gut with the standard coil-spring suspensions, either.
As for the new 10-speed transmission, we found it smart, deliberate and eventually anticipatory when it came to proper up- and downshifting both on grades and when highway cruising. Even on steeper grades, it held lower gears and quickly downshifted with a tap on the brakes (we love smart grade-braking logic). However, if we had to pick a nit, it would be that you can't see what gear the transmission is in unless you lock the column down into "M" mode and manually thumb-shift. Our judges preferred the Expedition's execution of this GM/Ford joint-venture transmission, from its gear indicator to its driving modes.
Despite its inclusion of sophisticated computer-controlled Magnetic Ride Control shock absorbers, the RST edition felt jittery, especially when the Tahoe was empty.

Interior

Chevy's interior strategy is a bit different from the new Ford Expedition's. Where the Expedition simply duplicated many of the popular F-150 pickup truck's interior details, the Tahoe has a more organic, curvy design language compared with its Silverado 1500 counterpart. Of the two, however, it's the Tahoe's interior that's in need of upgraded materials, a cleaner overall dash and center console design, and improved fit and finish. The Premier trim level (the most expensive one) offers a nice leather-and-wood package that gives the big SUV a very polished feel — and a pricey smell — but LS and LT models still look plasticky. That said, our favorite features across the lineup are the hidden one-touch storage bin behind the touchscreen and the cavernous center console.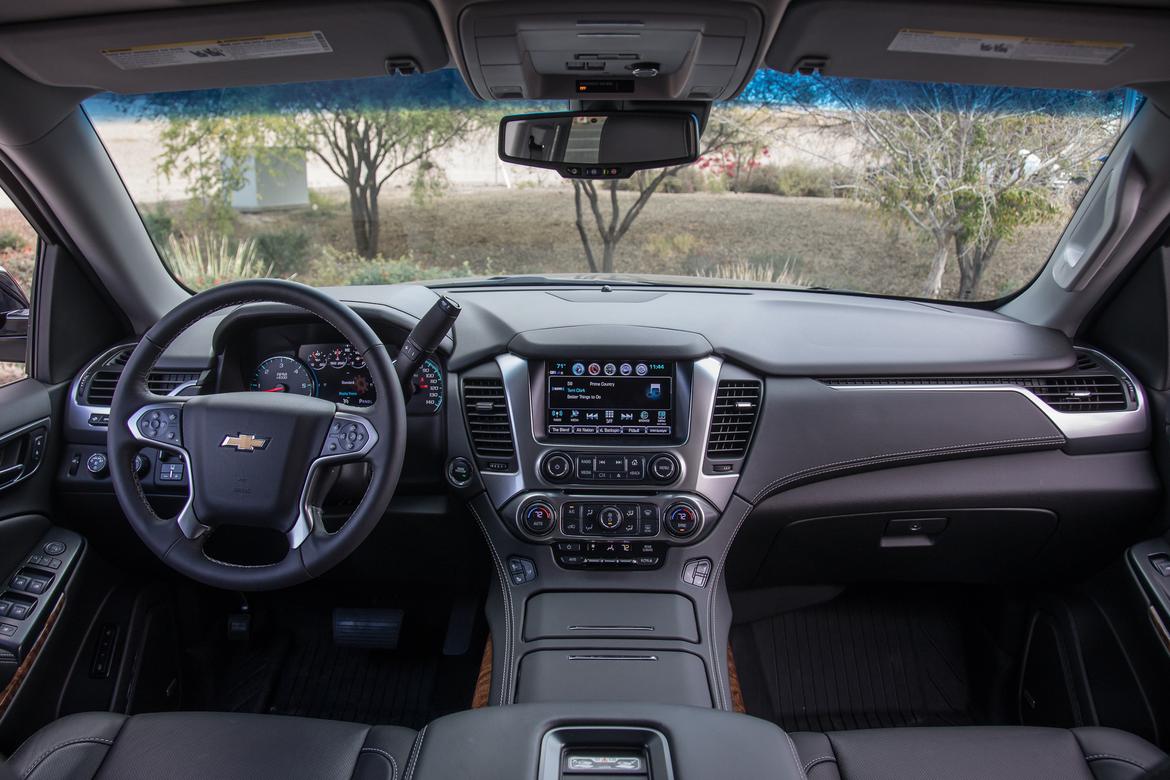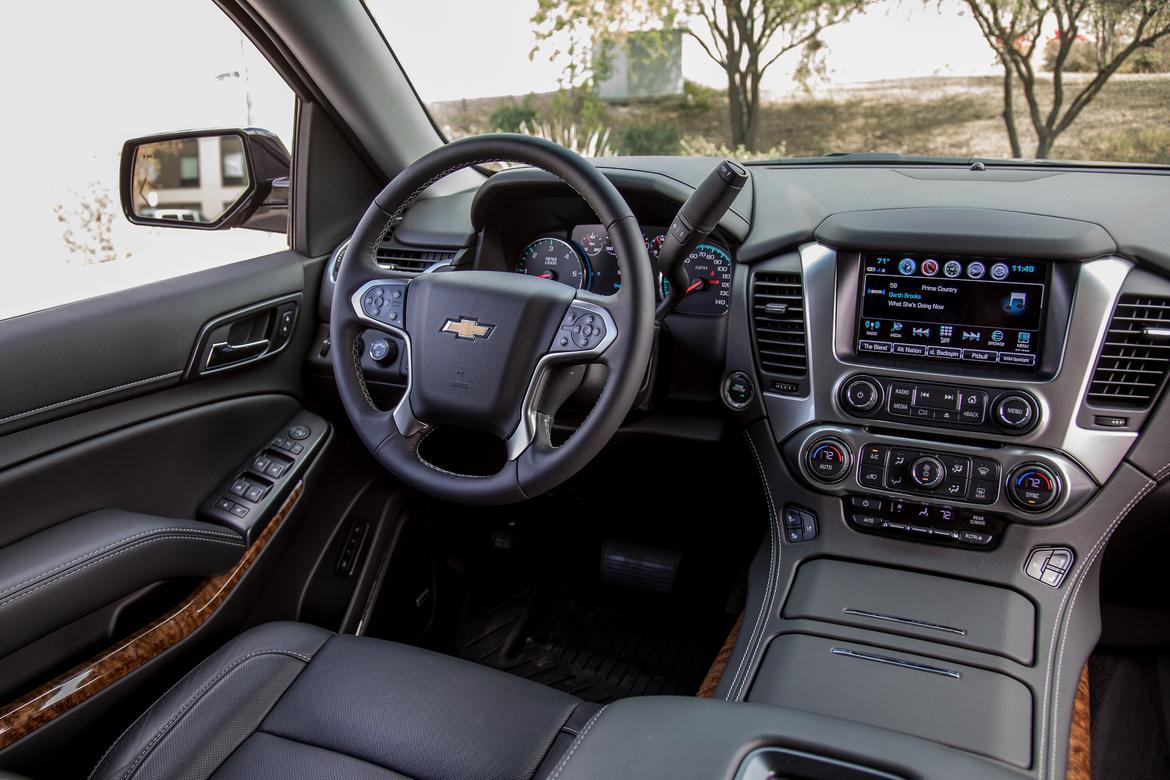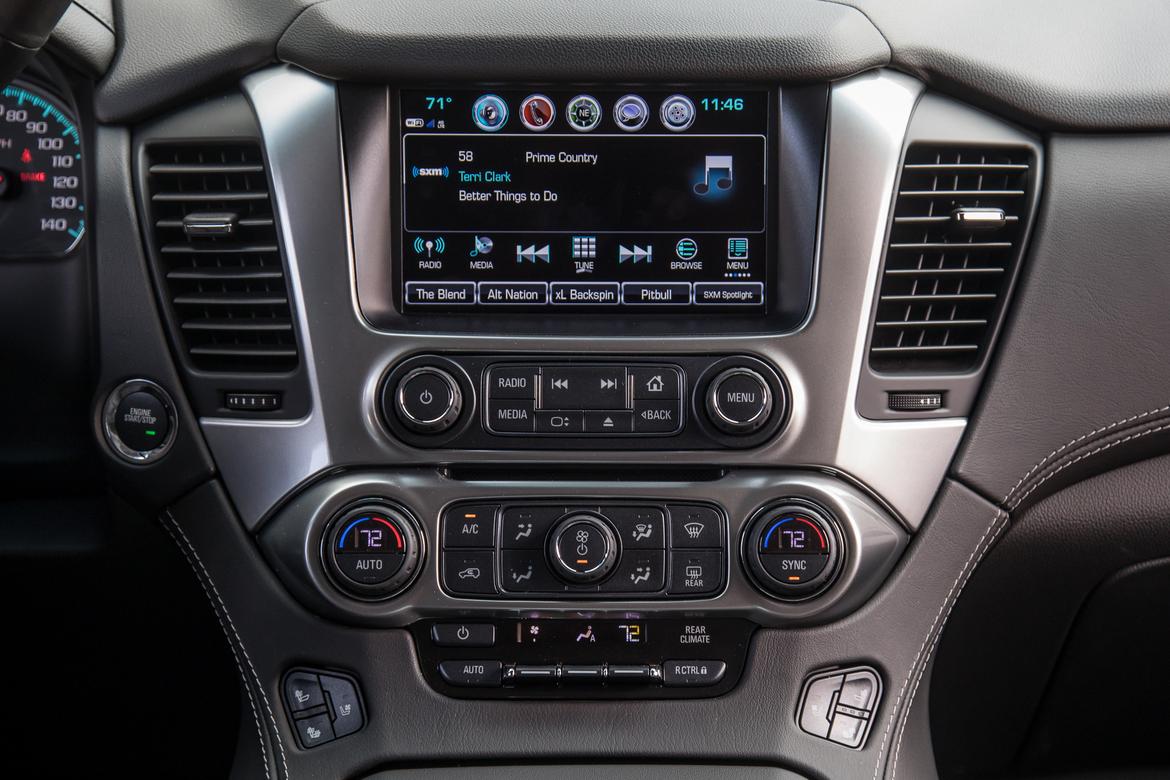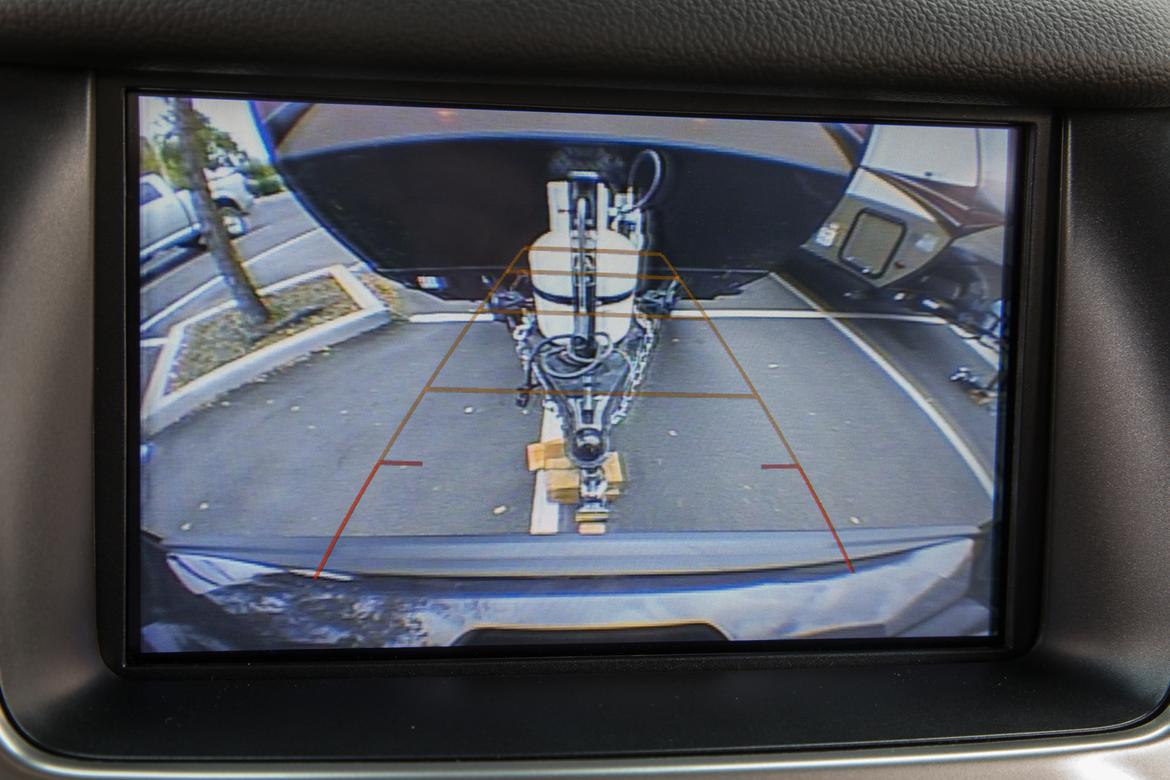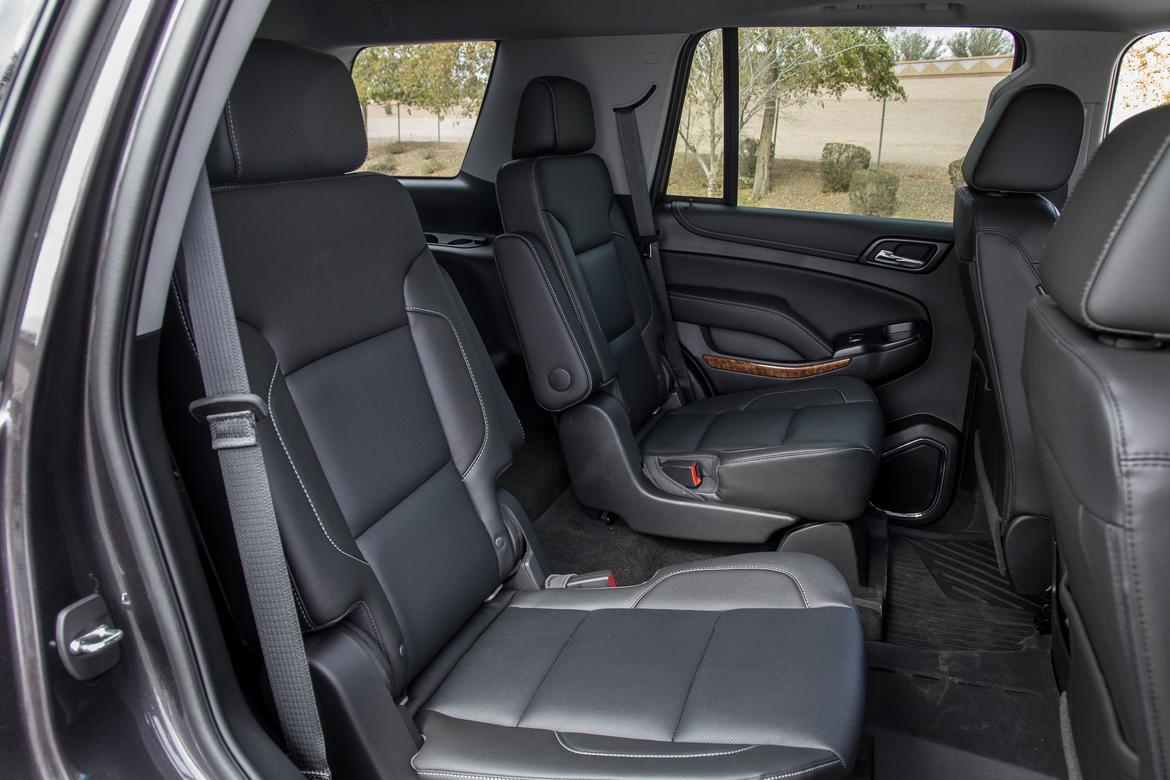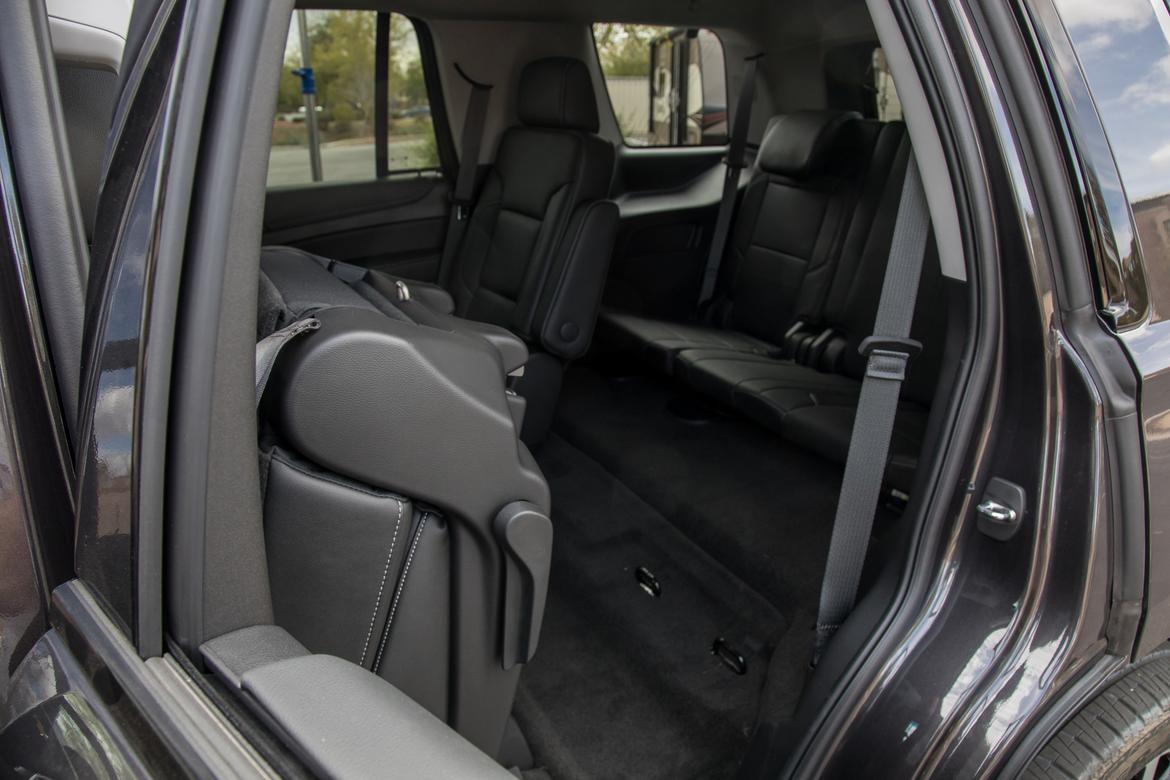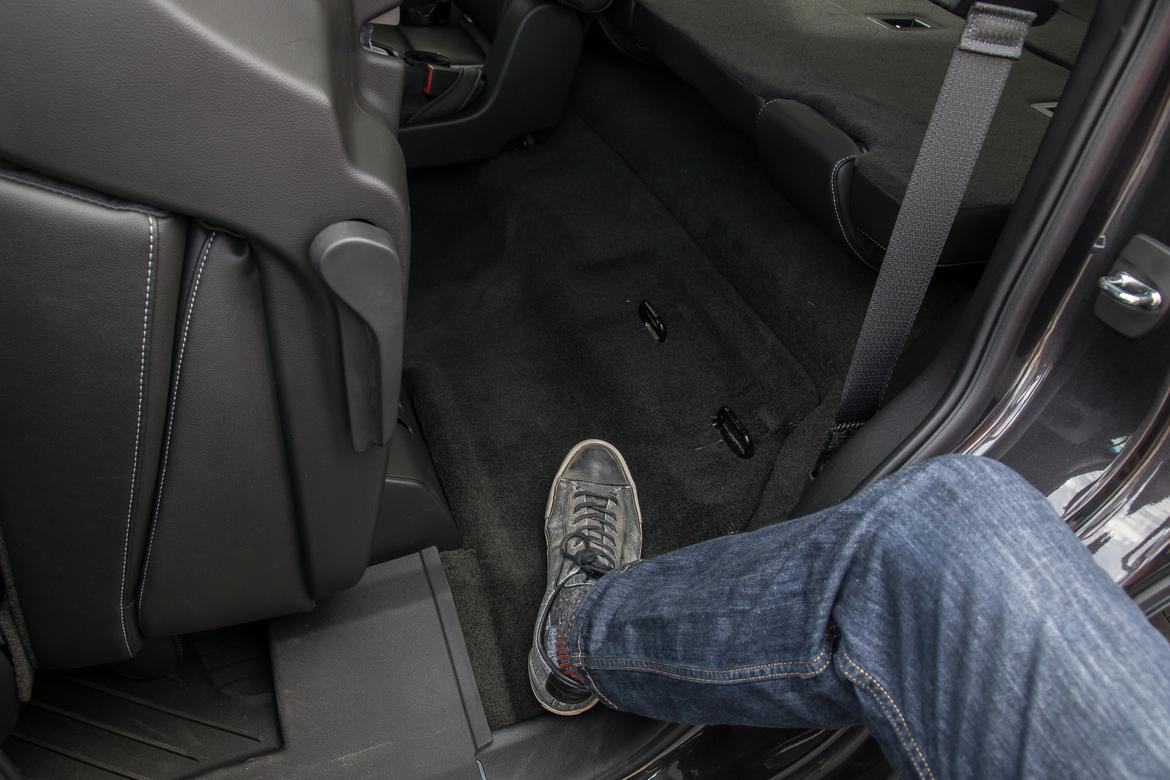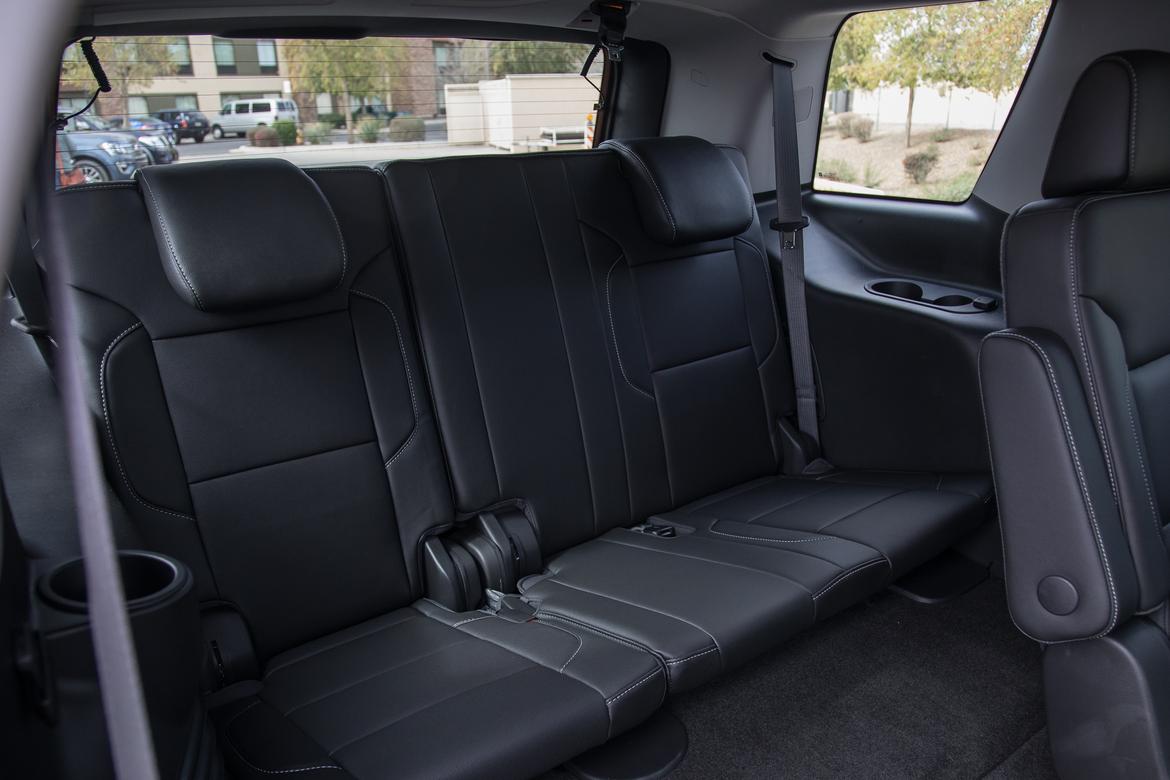 Second-row seating is quite comfortable. Our favorite setup was the seven-seat version with an aisle between the captain's chairs, giving third-row passengers freer passage. The cramped third row is in stark contrast to the Expedition's third row, which is commodious even for adults thanks to an independent rear suspension whose axle shafts pass through holes in the frame.
Chevy offers up to seven USB ports and six power outlets — including three 110-volt three-prong outlets — throughout the Tahoe, allowing every passenger to have some kind of charging station.

More Special Editions

Of special note for the 2018 model year are the Tahoe Custom Edition and Custom Midnight Edition packages available on the LS trim. While adding 18-inch aluminum wheels, a chrome accented grille and all-season tires, the Custom Edition deletes the third row, so it cuts $495 from the Tahoe's price. The same is true of the Custom Midnight Edition, which also deletes the third row and adds more features: The Midnight's black paint and interior, 18-inch black wheels, all-terrain tires, blackout grille, black side steps and black Bow Tie in the grille deliver a more rugged and stylish monochromatic look.
The final new-for-2018 special edition is the RST 6.2L Performance Package, available on the top-trim Premier, which we tested. (The cosmetic RST package comes on the LT and Premier.) Not surprisingly, this is the most expensive Tahoe you can buy, due in large part to its heavy-breathing 6.2-liter V-8, all-new 10-speed automatic and Magnetic Ride Control shock absorbers with load-leveling. The RST also includes 22-inch wheels and low-profile 285/45R22 Bridgestone Dueler H/L Alenza street tires, as well as a high-capacity air cleaner on the V-8 air intake and interior noise-cancellation technology. Add an available dealer-installed high-performance Borla exhaust and optional Brembo front brakes, rear entertainment system, moonroof, 8-inch head-up display and all-weather floormats, and our tester listed for $78,950.
Unfathomably expensive, you might say? Maybe not when you consider how much sport-fun you get for that price. In fact, the Ford Expedition in our Full-Size SUV Challenge was just a few thousand less, and it wasn't even a top-of-the-line version. It had nowhere near the monster rumble and thrust of the RST we drove. Yes, this Tahoe finished a close third overall when tested against the Expedition, Armada and Sequoia, but much of our reviewers' criticism focused on the more one-dimensional aspect of the Tahoe's RST 6.2L Performance Package — fun when doing autocross, but not so great all-around.

More Safety in All Trims

All Tahoes get a backup camera and a tire pressure monitor that includes a tire fill alert that chirps when proper tire pressure is reached. Forward collision warning with low-speed automatic braking, automatic high beams and lane keep assist are standard on LT and Premier trims, and on the LS you can get them if you add the Enhanced Driver Alert Package. Side Blind Zone Alert with Lane Change Alert and rear cross-traffic alert are standard on the Premier and optional on the LT.
If you haven't explored full-size SUVs, you may be surprised to learn that buyers are paying full-size luxury sedan prices for more technology, more size and more safety equipment. Higher transaction prices and lower mileage will clearly give some buyers pause, but there are things Tahoes and similar SUVs can do that three-row crossovers cannot — like hauling and towing both a large clan and a lot of cargo simultaneously. If you know you need a large vehicle, the Tahoe offers almost any flavor you like.
Make sure you know what you need and what you're getting into. If you spend the money for an RST edition, know you'll be giving up a few things to get it.
Cars.com's Editorial department is your source for automotive news and reviews. In line with Cars.com long-standing ethics policy, editors and reviewers do not accept gifts or free trips from automakers. The Editorial department is independent of Cars.com's advertising, sales, and sponsored content departments.
Source link